Workshop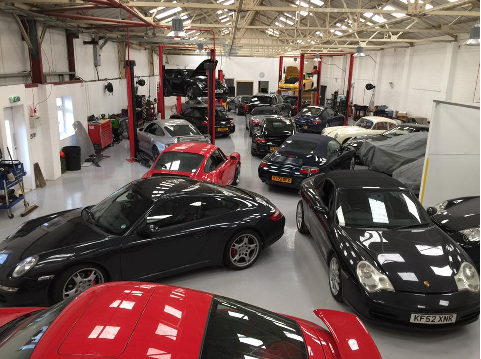 Take a look at our workshop. It is modern, clean and is fully equiped with all the latest Porsche tools and diagnostic software, that enable us to look after your Porsche regardless of age. Whether it is 356 or the latest 2017 models, we have the resources to service and repair your Porsche.
Here is a recent video from one of our car and coffee meets that shows you the showroom and workshop.
We are passionate about all Porsches regardless of model. Your Porsche is special and it deserves specialist attention from fully trained Porsche technicians who not only treat their work as a job, but as a passion. Your pride and joy is in the best possible hands.
Here are 9e we are committed to providing you with an excellent, comprehensive service, all at a competitive price. Furthermore we pride ourselves on our communication, keeping you updated on the progress of works on your Porsche. We work hard to be as competitive as possible without compromising the level of service we offer.
We offer fixed price servicing and can quote you for any other type of work. There is nothing that we cannot arrange to do for your Porsche, whether that be servicing, repairs, paintwork, wheel refurbs, you name it and we can do it.
Explore what we can do for you and join our other thousands of customers who trust 9e to look after their Porsche.